Finding gluten free options at restaurants can be very difficult. It's not as easy as "just don't get a bun or eat the bread." Gluten hides in seasonings, glazes, and cross contamination from prep/pots/pans/fryers is real. Because of this, we have been eating at home a whole lot more. (I'm working on a list of dishes to eat at restaurants/fast food restaurants. I still get sick from some "gluten free" items at restaurants.)
I've tried various gluten free pizzas and pastas, and even though I don't get sick afterwards, I've noticed I still don't feel nourished and satisfied after eating them. Another reminder that just because something is labeled as "gluten free." that is should not be classified as a "health food." (Sorry "organic" pepperoni!) It is still super tempting to rely on frozen pizza and burritos instead of whole foods that are more beneficial to my health and wellness.
That being said, I recently ordered the new
Whole30
book. I basically want to try ALL of the recipes. I'm sad to admit that I've only lasted 15 days on a Whole30, but even in that short time, I was able to realize the impact food has on me and it helped me discover how foods with gluten made me feel. I am planning on doing another one soon----this time I will get through the full 30 days.
I am obsessed with skillet meals right now. I love the combo of meat, veggies, and seasonings. I love how all of the flavors blend and I love how easily the reciple can be adjusted to whatever meat/veggies./seasonings I have in my kitchen.
Kielbasa, Pepper, Onion, and Potato Hash
is one of our favorites.
I currently have a
love
obsession with
Butter Chicken
. It was my first gluten free meal that I ate in a restaurant, and I want it all of the time. I will probably make this
Dairy-Free Butter Chicken
recipe when I do my next Whole30. I've learned that I can be a tad more generous with the spices (especially the Cayenne Pepper) and it is completely up to me how spicy or cinnamon-y I would like it to taste.
Since it is so nice out, we are all about using our grill. We sometimes will have a "chicken seasoning" party in our kitchen and each choose different spices and seasonings we want to use to make our own chicken. We have some really awesome spices from
TongueSpank
(thanks Maria!) that we frequently use, but sometimes I will just use lemon pepper seasoning and put my chicken over some spinach.
Alex and I are also on a hardcore brat/sausage phase. I've noticed that because I can no longer eat buns, I have to eat a lot more food to feel full. These
Oven Baked Potato Wedges
are the perfect side dish to help fill me up. They are so good and heat up really well the next day.
There are plenty of gluten free brats/sausages, but I was super excited to find the Aidells brand. Pineapple juice is listed as one of the ingredients in a few of their meats, and because pineapple and I don't get along, I kept looking until I landed on these two flavors: Cajun style and Italian style. So.Freaking.Good.I.Want.One.Right.Now.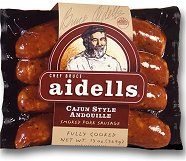 I'd like to conclude with one last message. I would not be writing this post if it weren't true: